Official Website for the Ross County Auditor's Office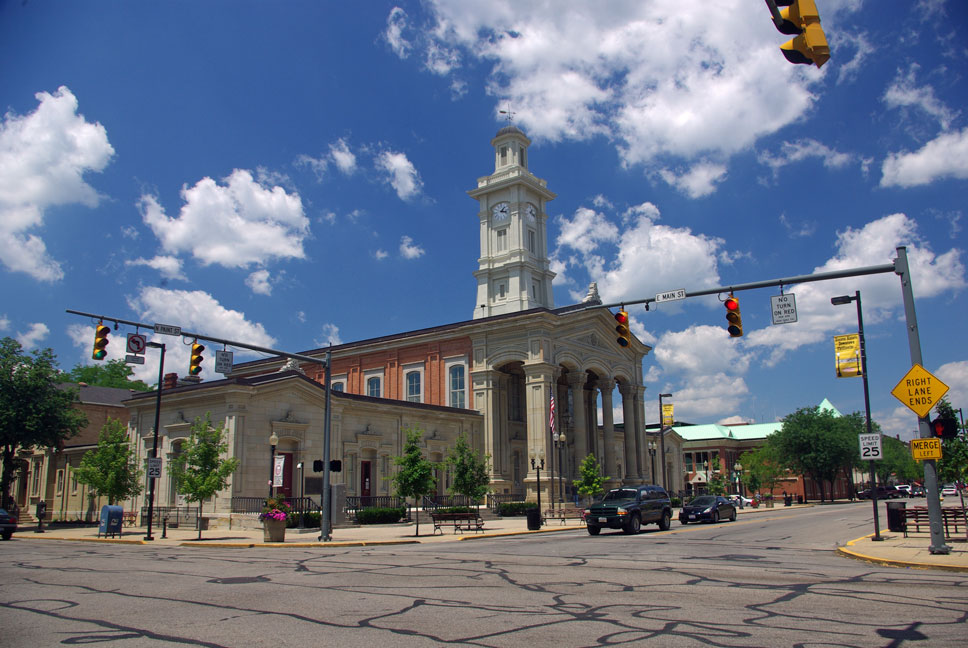 Welcome to the Ross County Auditor's Office!
On behalf of my entire staff, thank you for visiting our website. This site has been designed to provide you with information on the operations of our office and to assist you by offering many online services. Our goal is to provide information and services requested by taxpayers as efficiently and accurately as possible, while making our office increasingly accessible. We welcome your participation and feedback, as we are continually seeking new ways to provide outstanding service.
To begin using the site, click on the search bar or SEARCH link on the upper right of the page, or use the parcel viewer MAP, to locate our records for any property in Ross County. The INFO section on the upper right provides additional information on the various functions of our office and includes a repository of all the forms required to transact business. In the TOOLS section, you can run sales reports and use various calculators to sharpen your research. We hope you find this information useful, and we encourage you to report any additions or corrections to our office.
I invite you to call, email, or stop by to see me. This county government belongs to you, and I am proud and honored to be a part of it.
Tom Spetnagel Jr.
Ross County Auditor

Ross County Online Dog Licensing
Click here to purchase your 2022 dog tags, or to search our dog license database.
Below: Auditor Spetnagel with Walker Throne, his dad Mike, and Ross County's #1 Dog Digby.
Meet Your Auditor
Tom Spetnagel Jr. is a lifelong resident of Chillicothe. He was Chillicothe High School's valedictorian for the year 2000 and he obtained his law degree from Capital University Law School. At age 27, he defeated a 25-year incumbent to become the youngest person ever elected Auditor for the City of Chillicothe. To date, he is the only person to ever serve in that role for both the City of Chillicothe and Ross County.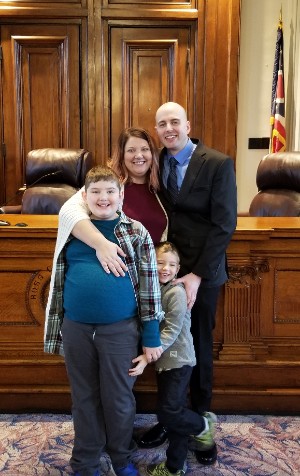 Throughout his career, Tom has been very active in the local community. His passion for history has led him to volunteer at Adena Mansion and Gardens, where you might've seen him portray Thomas Worthington or one of the Worthington family members in Adena's Murder Mystery Dinner. He is also the Treasurer for Chillicothe High School's Alumni Association, and he has been a past volunteer for the United Way of Ross County and the Good Samaritan Food Pantry. Tom was selected by his peers to serve on the statewide Executive Committee for the County Auditors' Association of Ohio. He is happily married to his wife Breanne, with whom he has two sons, Tre and Tyson.
Auditor Responsibilities
The Auditor is the county's chief fiscal officer and property tax assessor. As the "holder" of the county's checkbook, the Auditor is responsible for paying all of the county's bills, completing payroll for its 700+ employees, and keeping an accurate accounting of the county's fund balances. In addition, the Auditor is the statutory appraiser-in-chief of all real estate and manufactured homes in the county for tax purposes. Once property taxes have been collected by the County Treasurer, it is the Auditor who distributes those tax dollars to the appropriate city, village, township, or school district in accordance with the legally adopted rates. The County Auditor also serves as the sealer of weights and measures and as the licensing agent for certain licenses required by Ohio law.
In carrying out these duties, the Auditor must at all times adhere to the highest standards of ethics, professionalism, and integrity. This website is a reflection of the Auditor's commitment to customer service and full transparency to the public.
Ross County Facts
Founded August 20, 1798
Named for James Ross
Seat: Chillicothe
Largest City: Chillicothe
Total Area




693.03 sq mi




Land Area




689.19 sq mi




Water Area




3.84 sq mi (0.6%)




Population

(2019)




76,666




Density




113/sq mi
County Website: www.rosscountyohio.gov